CRAFTY SHOW: Souk @ Sat :: Prise 6 (December 12-14)
This looks pretty amazing!!!
If you're in Montreal during this time, it's definitely a happenin' event to check out!!!
----

Bazar organized like a huge loft where we can find a multitude of montreal's contemporary creations. Ideal place to find original, stylish and well-thought-of gifts in a vivid athmosphere. What a souk !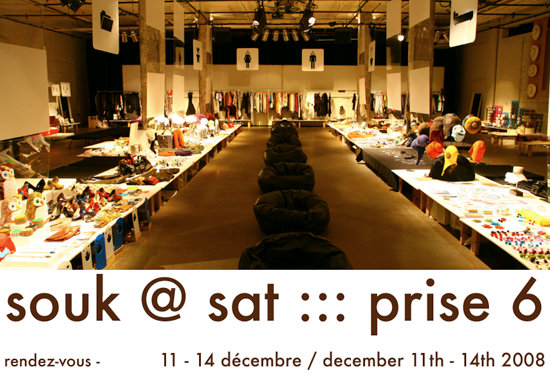 Dates:
Friday December 12, 12-9pm
Saturday December 13, 12-9pm
Sunday December 14, 12-5pm
Societe des Arts Technologiques 1195 boulevard Saint-Laurent
(between Rene-Levesque and Saint-Catherine).

Crafters run the gamut! Nea, Pearls Before Swine, Rachel F, Loyal Luxe, Pascaline, Valérie Dumaine, Baby Burrito and way too many others to list here.
For information, call: 514-844-2033