EXHIBITIONS: LucSculpture Masquerade Ball (Nov 1 2008) & other events (Oct-Dec)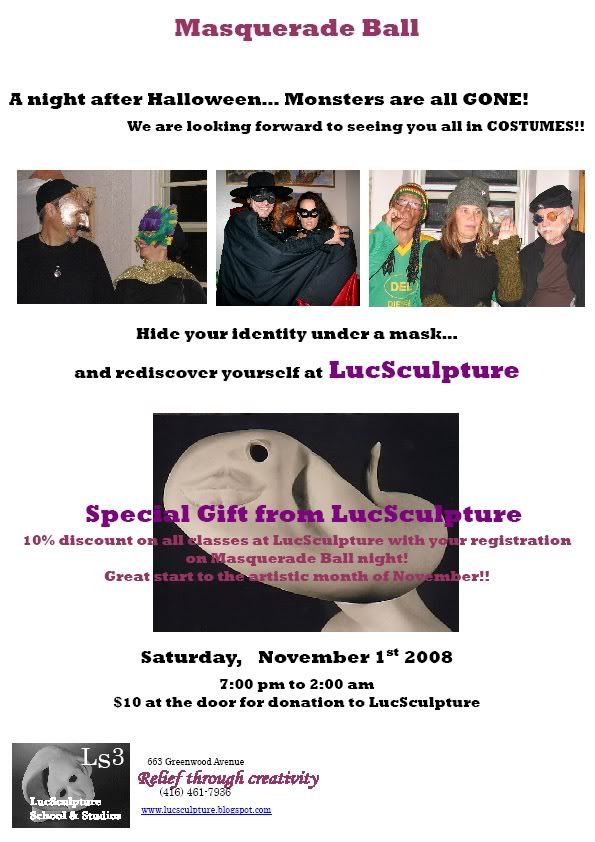 Hello fellow artists and LucSculpture followers,


The fall has come and the weather is going to keep us indoors warm and cozy so now is the time to be creative. Hibernation is suppose to be a relaxing time, no?


And now for some news from LucSculpture:
The Masquerade Ball is on Saturday November 1st
Dress up to according to your wildest fantasy!
For a change, hide behind a mask at LucSculpture and be crazy.

This Masquerade Ball is not about Halloween and scaring people, it's an opportunity to dream, discover and be creative.


Note: Find Luc on the invitation and get a discount at LucSculpture the same night.
After two months of hard work LucSculpture now has a real Gallery to host your work on the Danforth.
Showing now till Nov 2nd:
"White Space" recent clay work by Susan Mosdell, Janet Candido, and Vivian Ducas
Nov 4th to Nov 9th :
"Amnesty International Show: Opening and fundraising night Nov 6th from 7 to 11 pm
November 6th
"Poetic Justice" with guest poets and musicians at 8pm upstairs.
Nov 17th to 29th:
"Found object show" - Fellow artists of the trash, this is the time to submit your work!
Dec 15th to Jan 4th:
"Kids show"-Dear parents and children of LucSculpture it is time to prepare for a grand opening.
Kindergarten from 2 to 6 years of age are welcome at LucScultpture.
We will play with clay for an hour either on Monday from 11:00 am to noon or
on Sunday between 10:00 am and 3:30 pm


After School is going well! Join us or drop in for some fun:
Tuesday (Cartooning), Wednesday and Thursday (Clay Sculpture) from 4:30 to 6:00 pm

LucSculpture will run Creative Fest Camps at the end of the year:
Dec 22-26 & Dec29-Jan2nd
Details of the program will be on the way soon...

The next session of Modeling the figure in clay starts on Tuesday November 10th from 6:30 to 9:30pm.

Of course LucSculpture offer clay sculpture courses for all. How about getting your hands in the mud this fall?


Gary Smith painting, watercolour or any medium, and portraiture classes are on a roll Monday 9 am to noon and
Thursday from 6:30 to 9:30 pm.

Not to forget that Club Draw to draw the nude figure at LucSculpture on Sundays from 1 to 4 pm

Drop-ins are welcome.
Ask about LucSculpture Gift Certificates
416 461 7936
www.lucsculpture.blogspot.com