EXHIBITION: A World's History - Andrew Wilson at Magic Pony (November 6-30, reception: Nov 6)
Allow yourself to be transported to another world by the visionary artwork of Andrew Wilson, premiering Nov 6th from 7-10pm at Magic Pony.

Elements of 1970's sci-fi and fantasy coalesce in Wilson's evocative paintings. Chronicling the mysterious history of another world, these abstracted landscapes suggest the possibility of parallel universes, alternate realities, and other similarly eerie things to contemplate.

Please join us on this journey to another time and place, and explore a new meaning in the space between.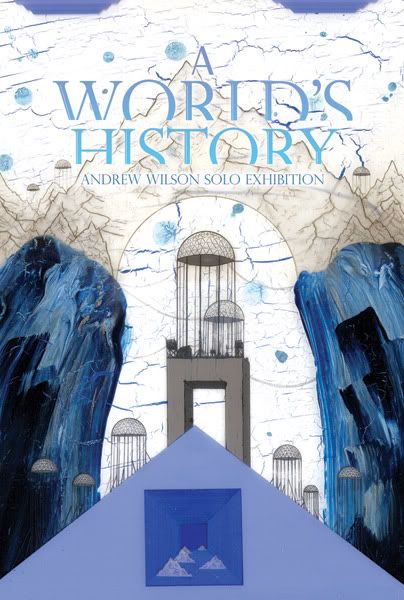 Magic Pony Presents:
A WORLD'S HISTORY
Andrew Wilson Solo Exhibition
Opening Reception
Thursday, November 6, 2008
7 - 10pm
Location
Magic Pony
694 Queen St. West
416.861.1684
Exhibition Dates: November 6-30, 2008

Magic Pony is pleased to present A World's History, a solo exhibition of new paintings and drawings by emerging Toronto-based artist Andrew Wilson. Exhibition runs November 6th to 30th. Opening reception is Thursday, Nov. 6th from 7-10pm. Artist will be in attendance.

Chronicling the mysterious history of an alternate world, Wilson's fantastical abstracted landscapes suggest the possibility of other worlds occurring simultaneously with our own. Past, present and future coalesce within this imagined topography. Futuristic architecture and geodesic domes crown primordial geological forms, while abstract shapes collide. Elaborate, mixed media resin-coated paintings encapsulate vast mountain ranges, crystal-line forms and volcanic interiors. Both gesturally inspired and carefully constructed, Wilson's paintings combine contrasting layers, textures and colours to subtly create depth.

A World's History also features a series of meticulously rendered ink drawings. While Wilson's geometric landscapes and utopian architecture evoke the future tense, his drawings explore an imagined past. Medieval villages and church spires are nestled into mountainsides, while enigmatic faces materialize in organic, Arcimboldo-esque illusion. Quietly beautiful and vaguely haunting, Wilson's imagery resonates with the vision and mystery of the fantasy genre, yet leaves definitive narrative open to personal interpretation.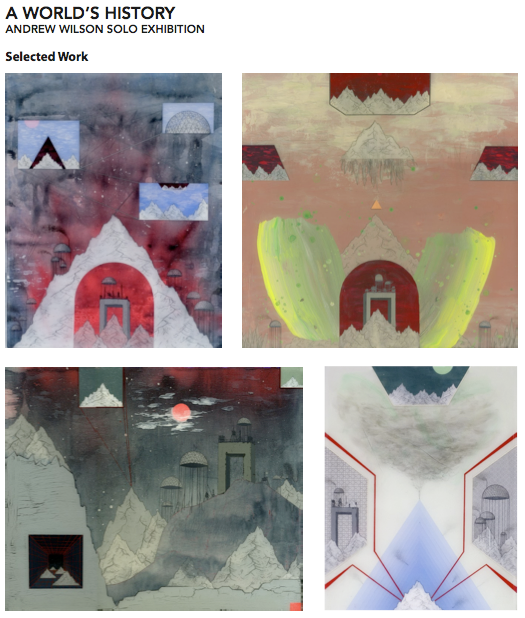 Andrew Wilson is currently finishing his Bachelor of Fine Arts in Drawing and Painting at The Ontario College of Art. Wilson has exhibited previously with Magic Pony in three-person show Mittenfists, August 2007.