EXHIBITION: Alphabet City Festival 2008: FUEL (Nov 27/28/29, 2008)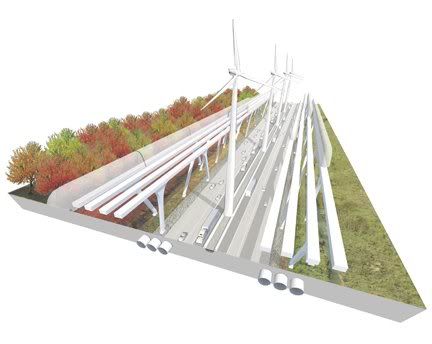 Image by Geoffrey Thün and Kathy Velikov (RVTR) from "Post-Carbon Highway"
FUEL anthology (4 3/4 x 6 1/4, 320 pp., 200 color illus.) available at mitpress.mit.edu , SWIPE, Pages, TYPE and other fine bookstores.
Presented with the support of: The MIT Press, Canada Council for the Arts, Ontario Arts Council, Clarity
Alphabet City Festival 2008: FUEL
November 27/28/29
EXHIBITION:
RIG
Designs for the fuel transition
Kelly Doran, Sara Graham, Chris Hardwicke,
Robert Kirkbride, Maya Przybylski,
Lola Shepphard,
Geoffrey Thün, Kathy Velikov, Mason White
The drawings presented in RIG include a post-carbon Highway 401, converted oil rigs, a perfect machine, off-grid condos, reprogrammed tar sands, siberian gas infrastructure, and city-wide tubes for bicycles.
Opening party: Thursday November 27, 7 pm
Exhibition runs to Saturday January 3
Toronto Free Gallery
1277 Bloor Street West
Tel 416.913.0461
torontofreegallery.org
Curated by Chris Hardwicke and John Knechtel
Exhibition Design by Vita Leung
Produced by Toronto Free Gallery and Alphabet City
SYMPOSIUM + BOOK LAUNCH:
FUEL TESTS
A high-speed series of presentations address our fuel fixation. Authors, architects, artists talk over 20 images at 20 seconds per image. Book launch / party to follow.
Friday November 28, 4-6 pm
John H. Daniels Faculty of Architecture, Landscape, and Design | University of Toronto
230 College Street, Room 066
Open to the public-admission free
info@daniels.utoronto.ca
Produced by Talk 20 and Alphabet City
www.talk20.org