CRAFTY HAPPENING: TEXTILE TALK - Bhutan-Impressions of the Land of the Thunder Dragon (Oct.3)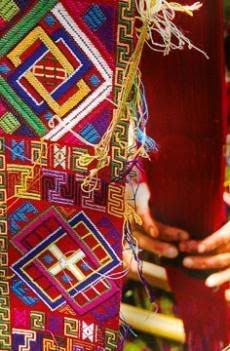 TEXTILE TALK:

Bhutan-Impressions of the Land of the Thunder Dragon


Andrea McGuire

Friday, Oct. 3

7 pm


Contemporary Textile Studio Co-op. 401 Richmond St. W, Studio 109. www.textilestudio.ca


$6


After spending some time exploring and seeking inspiration in this mystical land, artist and writer Andrea Maguire will offer her impressions of the remote and little-known Himalayan kingdom of Bhutan with its distinctive artistic traditions. She evokes Bhutan's timeless landscape while describing the mountain kingdom's textile arts and the vibrant cultural context in which these sophisticated fabrics are produced.


Andrea focuses on traditional textile production (plant fibre cultivation, spinning, weaving, dyeing, embroidery, paper-making, etc.), as well as a look at how Bhutan stands unique in reviving and adapting these traditions to a modern, globalized world. She provides details on the weaving techniques, fibres, dyes and processes used to produce the country's stunning textiles, and describes a few of Bhutan's sustainable development and resource-based initiatives.


She will illustrate her talk with photos that she took during her sojourn as well as some of the textiles that she brought back with her.


Read Andrea's articles here.
Please rsvp by emailing:

info@textilestudio.ca. Hope to see you there!


--
Contemporary Textile Studio Co-op
Studio 109, 401 Richmond St. W

Toronto, Ontario

M5V 3A8