SUPPLY YOUR HABIT & GET SCHOOLED - workroom and Berninas! workroom class schedule (Sep-Oct 08)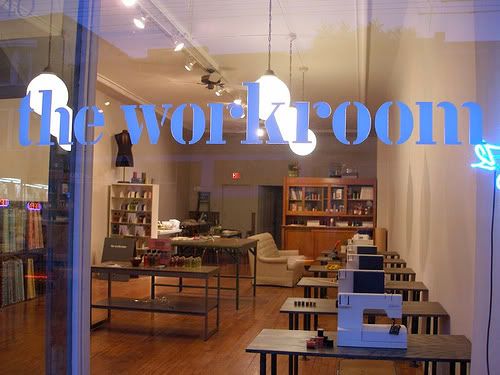 the workroom is delighted to announce that we are now an authorized Bernina Dealer. As with every tool, sewing notion, and bolt of fabric we sell, I have carefully chosen Bernina for their impeccable reputation and strong focus on customer education.
Bernina sewing machines, sergers and accessories are now available for purchase through the shop. When you purchase a Bernina machine at the workroom you will

receive a private lesson

that will go over every feature of your new machine. We will also be able to support you with our growing technical knowledge and

the regular servicing

of your Bernina machines at our location.
As our thank you, from now until December 25, you will receive a $50 - $150 gift card for the workroom with the purchase of a Bernina.
You can use this gift card to take sewing classes, buy fabric or put together a sewing kit with all the best notions. You just might want to put a new Bernina on your holiday wish list, it will be a gift you'll enjoy every time you use it!
To celebrate our new dealership, the workroom is having a draw for a Bernette 56!!!
For every purchase of $40 or more (this includes class fees), between now and December 15th, your name will be entered to win

.
The class calendar for September/October was just updated and you can download it here. (just select on Classes and the PDF can be uploaded from there)
Check out photos of the first

Snap Coin Purse

class and you'll see why this is going to be the perfect gift to make this holiday season.
Our other new class is the

Wool Slippers

class, another perfect gift class that shows you how to upcycle a wool blanket into cozy bootie slippers.
the workroom is doing another joint class with The Knit Cafe on doing a knit felted bag with a fabric lining and zippered pocket. It's the perfect way to combine your love of knitting and sewing!
Plus, there are still a few spots left in Zipper Clinic, Fabric Buckets, Sampler Quilt, Birdie Sling and Easy Alterations, as well.
I didn't even mention all the beautiful new fabric we've gotten in for fall!
See you soon,
Karyn
-the workroom-
1340 Queen Street West
Toronto, ON M6K 1L4,
416-534-5305


check out the workroom on flickr!
http://www.flickr.com/photos/theworkroom/

updated as new classes and fabrics arrive