STUDIO SPACE/ CALL FOR SUBMISSIONS: The Production House
Via Akimbo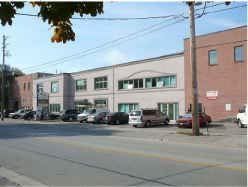 CREATIVE STUDIO SPACE FOR RENT

IN TORONTO'S NEW ARTS DISTRICT


CALL FOR SUBMISSION - ART EXHIBITION : PERIPHERAL


The Production House


***$1.00 per square foot (all inclusive)***


The Production House is a new art building development in New Toronto and has been described as "wild" and "definitely needed" by artist Andy Fabo. This exciting new arts building in New Toronto (S. Etobicoke) is receiving a great deal of industry buzz and support. It gives artists access to brilliantly envisioned but affordable creative space. This eclectic environment is ideal for art production that challenges and expands the role of contemporary art in Toronto and beyond.


Don't miss the chance to secure a truly creative space, without the fear of condo/loft conversion!

!!


The Production House answers the city's need for vibrant and affordable spaces for creative work. It features 45,000 square feet of space, up to 21 foot ceilings and plans for a massive rooftop venue for the arts. This 'CREATIVE LANDMARK' addresses a strong need in the market place. It is a place where you can create and display your work with no distraction and access the downtown core in minutes by car or transit.


Say goodbye to expensive cubicles, parking tickets and organizations that stifle creativity and the creative process. Say hello to a new chapter in the illustrious history of creative spaces in Toronto. Finally, a designated building committed to affordable and hip creative studio space. Build out your unit and shape the space to service your exact needs.


We at The Production House want you to become an integral part of this historical landmark.


There are many great studios available starting from $300 a month.

With 14 to 21 foot ceilings this is an ideal space for art organizations, photographers, artists, ad agencies, film and creative studios. 1, 3, 5 and 10 year leases are available.


Units available on both main and second floors:


1,380 sq ft

2,073 sq ft

2,500 sq ft

6,500 sq ft


Over 75% of the units were scooped up within weeks of launching. Now, in month three, we are releasing the last remaining units. They are sure to go fast...so don't miss out. Call and schedule a time to come down.


CALL FOR SUBMISSION - ART EXHIBITION : PERIPHERAL


The Production House in conjunction with our media sponsor The Samurai Group, welcomes you to be an integral part of this historical landmark and its official launch taking place one month starting November 15th, 2008.


For inquiries concerning volunteering, exhibiting, space rental or for more details and to schedule a visit please contact:


Brian Armstrong at 416-840-0884 ext 250 or 416-879-2448 (cell phone)