CALL FOR SUBMISSIONS: One Inch Punch - The Button Show (deadline: July 21)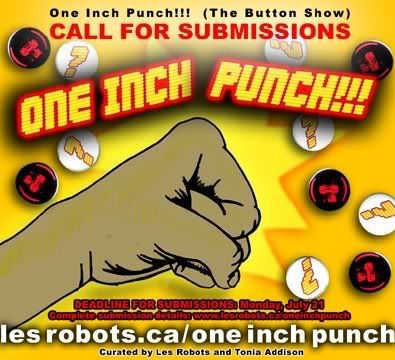 ONE INCH PUNCH!!! The Button Show


We are inviting you to submit your design for a 1" button.
Submission deadline is JULY 21, 2008.


For complete submission guidelines see the attachment and go to: www.lesrobots.ca/oneinchpunch


ONE INCH PUNCH!!!

is back with another one night stand of original artwork on one inch buttons.

Send us your design for a one inch button

and the top 50 will be displayed in our gallery show in one of the most unique events of the year.


It's free to submit your artwork and free to participate in the show if you're chosen. In fact, if you're one of the artists chosen for One Inch Punch!!!, we'll give you five copies of your button for free!


The night of the show we welcome you to come and see the hottest button designs where buttons will be available for purchase in random packages of five. Didn't get the button you wanted? Feel free to trade with other button pushers at the show. Last year, trading was fierce, so brush up on your bargaining skills!


Please feel free to forward this email to any of your friends who might be interested, and whether you submit or not, we'd love you to come to the show on Friday, August 8th, 2008 at Lennox Contemporary Gallery (12 Ossington Ave).