CRAFTY BIZ: visual arts ontario professional development workshop series
Professional Development Workshop Series from the
Visual Arts Ontario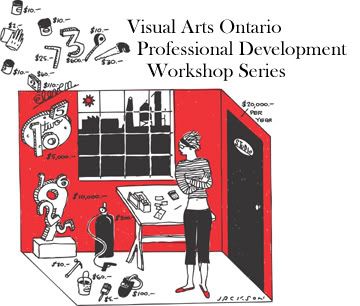 PORTFOLIO DEVELOPMENT
WEDNESDAY, APRIL 2nd, 6-8pm
Your portfolio is your most important tool in communicating your artwork to the art world. This presentation covers producing the contents of a portfolio, formatting, and packaging it to get your work the attention it deserves.
PHOTOGRAPHING YOUR WORK

WEDNESDAY, APRIL 9th, 6-8pm
Jesse Boles (Edward Day Gallery, Doppelganger Imaging) will guide you through the process of capturing your 2D and 3D art on camera. Learn how to set up your digital camera and lighting to ensure professional-quality reproductions.
DIGITALLY IMPROVING YOUR DOCUMENTATION

WEDNESDAY, APRIL 16th, 6-8pm
Jesse Boles will show you how to manipulate your digital images like a pro in Adobe Photoshop. Whether you want to adjust your image resolution or touch up your photographs, this workshop will teach you essential finishing touches.
MARKETING YOUR ART

WEDNESDAY, APRIL 23rd, 6-8pm
How does an artist come to be well-known and critically recognized? What establishes their legitimacy in the world of art? How do these factors contribute to sales? Learn how to identify key audiences for your artwork, and the different ways to market yourself.
MARKETING ART ONLINE

WEDNESDAY, APRIL 30th, 6-8pm
The internet presents a myriad of opportunities to bring awareness to your artwork: Websites, emails, and social networking are some of the marketing tools available today. Learn how to navigate these possibilities to create an enduring and effective online marketing strategy.
MARKETING ART INTERNATIONALLY

WEDNESDAY, MAY 7th, 6-8pm
Prepared in conjunction with the internationally-recognized Thrush Holmes Empire, this presentation is for artists seeking an international audience. Learn how to present yourself across vast distances and how to choose your targets and attract the attention of an audience abroad.
PACKING AND SHIPPING

WEDNESDAY, MAY 14th, 6-8pm
You have invested so much effort in finding galleries, clients, and art fairs; now to make sure your art gets there. Presented in conjunction with PacArt, this session deals with packaging your work safely, shipping, and customs.
GRANT WRITING
WEDNESDAY, MAY 21st, 6-8pm
Maximize your chances of getting that grant! This presentation helps artists discover how to find granting opportunities and how to write a successful application including project descriptions and budgets.
REGISTRATION
Each workshop is available for $50 for VAO members; $68 for non-members.
Or register for all 8 workshops at the discounted price of $250 for VAO members;
$285 for non-members (non-member price includes 1 year VAO Membership).
All workshops held at the VAO Gallery at 1153A Queen St W, Toronto, ON M6J 1J4
To register:
www.vao.org
,
info@vao.org,
(416) 591 8883
*** Take the VAO Artists Poll****
Visit
www.vao.org
and click on the poll link. Tell us about your successes and challenges as a practicing visual artist!