EXHIBITION: Noble Fir Holiday Group Exhibition
Toronto contemporary art shop & gallery Magic Pony is hosting the Noble Fir Holiday Group Exhibition.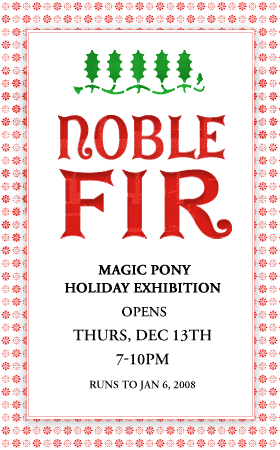 Opening Reception:
Thursday Dec 13 2007
7-10pm


Location:
Magic Pony Gallery
694 Queen St West, Toronto ON Canada
416.861.1684


Event Details:
Magic Pony is pleased to present our annual holiday exhibition, NOBLE FIR.
This special exhibition showcases a splendid array of exceptional art gifts from original paintings, objects, soft sculpture, zines, limited edition toys to amigurumi. Come out for a night of Pony festivities and special sales!
Participating artists include:
C'est Moi Ce Soir (UK)
Derrick Hodgson (Toronto)
Gary Taxali (Toronto)
Jacob Whibley (Toronto)
Keith W. Bentley (Toronto)
Kozyndan (Los Angeles)
Melinda Josie (Toronto)
Nako Yamaguchi (Japan)
Michael Comeau (Toronto)
Naomi Yasui (Toronto)
Nathan Jurevicius (Toronto)
Nicoletta Ceccoli (Italy)
Noel Middleton (Toronto)
Regional Assembly of Text (Vancouver)
Sonja Ahlers (Vancouver)
Stephen Appleby-Barr (Toronto)
Takaaki Ishii (Japan)
Tania Sanhueza (Toronto)
Tara Azzopardi (Toronto)
Team Macho (Toronto)
TOM (Japan)
http://magic-pony.com/
contact@magic-pony.com
This event has been added to the Toronto Craft Alert Event Calendar. Google Calendar users can add this event to their own calendars by clicking here.