SUPPLY YOUR HABIT: The CARFAC Ontario 2008 Artists' Day Planner
Keep track of your artsy endeavours with the the CARFAC Ontario 2008 Artists' Day Planner.
An excellent professional resource:
The Artists' Day Planner will help you allocate your time while identifying opportunities to which you can submit your work.

You will be able to clearly see when various funding bodies have deadlines, and plan your schedule accordingly.

You will refer to your Artists' Day Planner again and again in 2008 as you work to meet your professional goals!

Also a great holiday gift idea for the artist in your life!
Features:
Weekly and monthly planning layouts;

Canada Council for the Arts, Ontario Arts Council, various municipal funding programs, and many more funding and exhibition opportunities with deadlines in 2008;

Religious observances;

Moon phases;

Artist-focused advertising to help you find businesses that provide the services and products you need;

Lined writing space and blank sketching space allowance in each day segment;

Monday to Sunday structure to maximize your weekend planning;

Size: 7" x 8.5", Spiral Bound.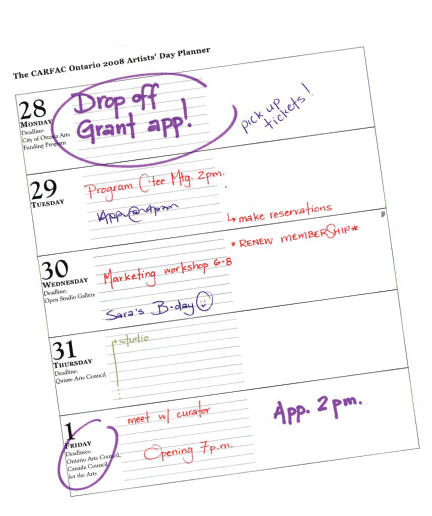 As an artist-run organization, we understand that your time is precious. In addition to making work, you are responsible for managing the business aspects of your career such as: financial management; marketing and promotion of your work; writing grant applications; researching opportunities; and countless other tasks. On top of all of these responsibilities, if you are like most artists in Ontario, you probably have a full or part time "day job" as well!
We at CARFAC Ontario have developed this Day Planner for you to use as a tool to help you in managing all the conflicting priorities in your life and to help identify some of the opportunities for which you may be eligible. Hopefully, this will allow you more time to spend on the most important part of your job as an artist - making artwork!
Here's to a happy and prosperous 2008!

Order now!
CARFAC Ontario Member Price: $14.00 (Plus GST + S&H if applicable)
Non-Member Price: $18.00 (Plus GST - S&H if applicable)
(Allow approximately three weeks for delivery)
Order form or buy online
Orders can also be placed by calling or visiting our office.
CARFAC Ontario
401 Richmond Street West, Suite 440
Toronto, Ontario M5V 3A8
web address: http://www.carfacontario.ca
email: carfacontario@carfacontario.ca
phone number: 416-340-8850
fax number: 416-340-7653
toll free: 1-877-890-8850