CRAFT SHOW: Woodlawn Pottery Studio Show
The Woodlawn Pottery Studio, a 25-year-old non-profit Toronto women's cooperative, invites you to their annual Show of a unique collection of ceramics. Both functional and decorative clay works featured. Choose pieces for your home, as well as holiday and/or corporate gifts.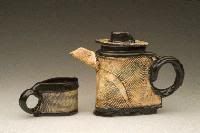 Location: The Gladstone Hotel
Date: Saturday, DEC 8 - 9, 2007
Times: Sat 11am-6pm and Sun 11am-5pm 2nd Floor
free admission!
more information can be found at woodlawn pottery studio and at the gladstone hotel
This event has also been added to the Toronto Craft Alert Event Calendar. Google Calendar users can add this event to their own calendar by clicking HERE.