CRAFT SHOW: The Winter Spectacular Art-a-palooza
Want to give some fabulous art as a gift this year? The Burrow Art Centre is hosting the Winter Spectacular Art-a-palooza, and has tons of art to suit every taste.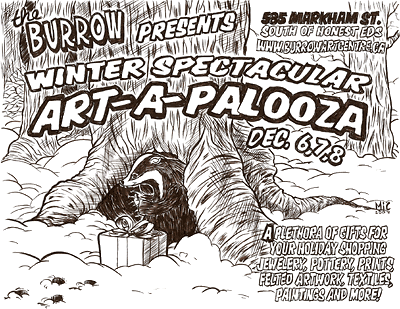 Event details: The Art-a-palooza is comprised of a wide variety of artworks from an incredible array of artists. There will be spectacular creations in jewelry, ceramics, felted artworks, handmade cards, collage, paintings, silk-screened prints, and textiles. The show's roster includes Jon Partridge Pottery, The Little Odd Forest, Thumbelina Card Company, Jules and Annie, Bumblebee Jewelry, Trifly Designs and more!

The Burrow Art Centre is located in the heart of Mirvish Village and offers art classes for children ages 4-14, and adult workshops. Our shop carries products by The Japanese Paper Place and children's art supplies as well as a variety of artists' consignment works.

At The Burrow we support and believe in accessible art for everyone.

This event has also been added to the Toronto Craft Alert Event Calendar. Google Calendar users can add this event to their own calendar by clicking
HERE
.