getting this party started
It's both giddy-making and a little scary to kick off a project that has been brewing for ages (as this one has in various forms). So I figure the best way to do this is just to jump right in there with some crafty goodness going on around town these days. But since you're reading, I will mention a couple of things before getting started:

*Join the
maili
ng list
if you want to be craftalerted when a bunch of fun things amass (like craft fairs, exhibits, stitch'n'bitches in your hood).
*Please do
send me
your hot craft tips - for the links on this blog, or write a blurb to disseminate in the mailing list. Blatant self-promotion is welcome!

Onto the fun. Three shows that I'm excited about:

1. Paige Gratland,
donut ho
and imparter of
free dance lessons
(among other fun projects), has a soft scultpure show called "It's O.K. to be Soft" at
Katharine Mulherin
(1080 Queen West @ Dovercourt) from Feb.3, 2006 - Feb.19, 2006. The installation involves quilted and sewn plush in the form of a velveteen tree that you are invited to hug. Since everyone could use a hug at the end of the week, you best attend the opening tonight from 7-10pm.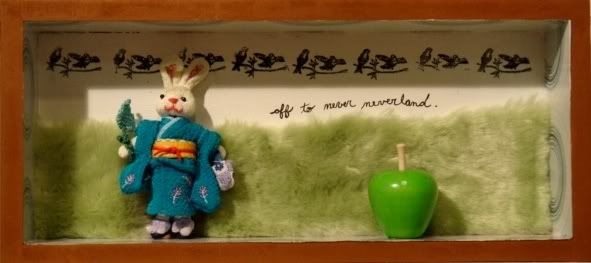 2. Just down the street at
C1 art space
(1080 Queen West @ Ossington) you can check out SMALL DELIGHTS , a whole bunch of cute by Toronto-based artist Heidi Jahnke (check out images her pieces to the left). Her mixed media work, "consists of a quirky collection of constructed boxes portraying playful imagery of animals involved in their own miniature, fantastical worlds." The openining reception also takes place
tonight, from 7-9pm, and the show runs until the 26th.
3. If you haven't already, please promise me you'll visit A Terrible Beauty, an installation by Jennifer Angus at the Textile Museum of Canada (55 Centre Avenue - near University and Dundas). In this totally fantastical exhibition, 15,000 tropical insect specimens from Southeast Asia are pinned onto the gallery walls, in intricate patterns evoking 18th-century wallpaper and textiles from India, Japan and Egypt. Thankfully on until May 14th to allow for multiple visits. FYI: on Wednesdays from 5:00 - 8:00 pm, admission is PWYC.