THE FIRST OFFICIAL Toronto Craft Alert!
ON THE MENU: February 9, 2006

1. Hello there
2. Vintage textile o-rama
3. Craft fair in Mississauga
4. Sew Be It Studio: Workshops/swap parties
5. Cross country checkup: Montreal and Vancouver
6. Local craftivism: Fibre Philanthropy

1. Hello there

Just a quick note to say thank you to everyone for your interest and support – I am still reeling from the amazing response this project has generated (in terms numbers and enthusiasm), and I can't wait to see what form this all takes. Thanks especially to those who have sent in their hot craft tips or event listings – keep 'em coming and this thing could grow into an incredible resource.

Finally, I just wanted to give props to the instant coffee mailing list, an amazing source for arts events happening around town (and elsewhere). Their work has most definitely shaped the development of this project.

2. Vintage textile o-rama

Vintage textiles are where it's at. Here are two upcoming events that make my heart beat fast:

a. Rozaneh Vintage Clothing Studio Sale

Rozaneh Vintage Clothing* is holding a spring studio sale:

Sunday, February 12, 2006
11am - 6pm
183 Bathurst Street (east side, just north of Queen), downstairs
For more information : 416.516.0419

An eclectic selection of dresses, skirts and unusual vintage garb. Some designer pieces, textile, jewelry and accessories.

*Until just recently, Marilyn used to have a shop on College at Shaw – filled with gems at amazing prices. So this should be good.

b. Toronto Vintage Clothing and Textile 15th Anniversary Show and Sale

Saturday March 4, 10am - 5pm
CBC Building - the Atrium
250 Front Street West (Formerly at Enoch Turner Schoolhouse)www.vintage.torontoantiques.com

3. Craft show in Mississauga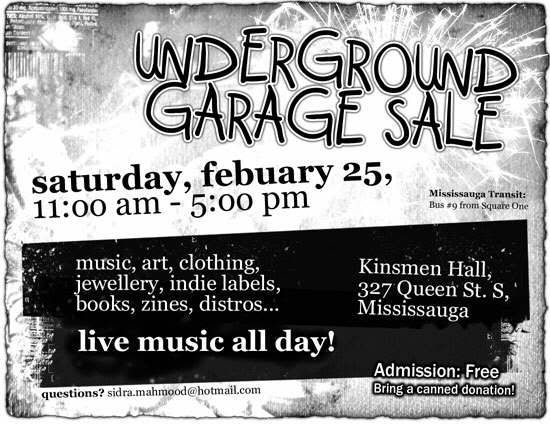 Underground Garage Sale
Saturday February 25, 2006
Kinsmen Hall
327 Queen Street S.
Mississauga
By transit: Bus #9 from Square One

Music, art, clothing, jewellery, indie labels, books, zines, distros, sold mostly by girls in their late teens/early twenties who are diy fanatics. Live music all day!

4. Sew Be It Studio: Workshops, etc.

Sew Be It Studio is offering a bunch of fun workshops and swap opportunities. Some not listed here include Bra Making 101, Corset Making, and Beginner and Intermediate Knitting. Please visit their website for more details on these and the following:

Beading Applique for Beginners

Learn the three basic stitches for executing beadwork on fabric. A full explanation of tools and materials will assist the students in producing quality beadwork. You can enhance your finished project by combining color theory and patterning.

Date: January 21 & 28, Saturdays, Time: 2pm - 5pm
Date: April 22 & 23, Saturday & Sunday, Time: 10am - 1pm

Intermediate Beading Applique

In this workshop we will explain different ways to create three dimensional surface work on fabric. You will be given the guidance and encouragement to establish your own designs to elaborate on.

Date: March 18 & 25, Saturdays, Time: 10am - 1pm

Fuzzy knit bag
Make an adorable and functional knit bag in just one easy lesson. This fuzzy purse is a fun project measuring approx 20x25 cm (8x10 inches). There is a photo of this bag here: http://www.sewbeitstudio.com/workshops.asp

Date: March 11, 2006, Saturday, Time: 10am - 1:30pm

Fabric Swap Party

Bring in all the fabric you have been hoarding for years or that discounted tweed you bought last week. Bring in your excess yardage, those scraps you haven't been able to part with, trims, old curtains, anything! Then we swap till we drop over tea and chatting. All leftover fabric will be donated to a local family shelter.

Date: Friday March 10, Time: 7pm - 9pm

Stay tuned for a clothing swap party this April.

5. Cross-country checkup: Montreal and Vancouver

O.k. the deadlines for these projects are coming up really soon, but even if you can't participate, perhaps these will inspire similar Toronto-based initiatives. Plus, look how cute the Seamrippers are!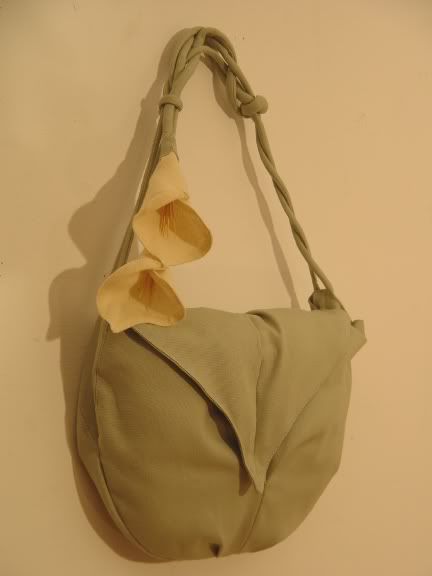 a. Consistent Variable Project (CVP): Trial 2 .

Deadline for email applications: February 11, 2006

The Consistent Variable Project (CVP): Trial 2 is a collaboration between Montreal designer Clayton Evans and terminus1525.ca, an online gallery and community promoting the work of young Canadian artmakers.


They are seeking 15 young designers and artists to participate in the project. Participants chosen for the show will receive an identical kit containing a limited selection of materials. Everyone will have one month to produce a unique art work using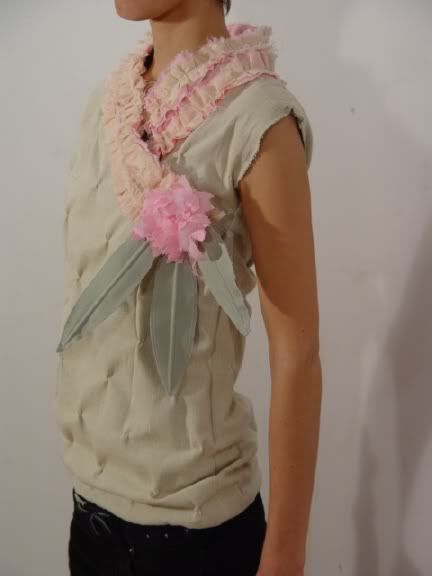 only and all the contents of the kit. The challenge is to create a unique and compelling work with a limited selection of materials. The final collection of work will be interpreted through photography and will appear on the terminus1525.ca in an online gallery later this spring. All participants will receive an artist fee. Visit the CVP webpage for more details.

Check out the results of the 2004 exhibition.



b. Seamrippers Quilt Show March 3rd

Call for submissions:

We are looking for submissions of all sizes, and welcome works that push the boundaries of convention in quilting as well as traditional Quilts. Works in progress are acceptable for jurying.
Jury date Monday, Feb 13th, 4-9 pm
Contact them here
http://www.seamrippers.ca/

6. Local Craftivism: Fibre Philanthropy

In hunting for links for the blog, I came across a listing for "Fibre Philanthropy * Knitting for the Homeless" on the Knit-o-matic website . Here's the scoop:

"Every Wednesday night during the Stitch 'n Bitch we also host Fibre Philanthropy. People of all ages come and knit scarves, hats, mitts & socks to help Toronto's homeless survive the winter. All finished items are given to the Wychwood Open Door Drop-in Centre for distribution.

We contribute FREE instruction & patterns for these projects and the yarn is also free, donated by generous groups and individuals. All you need to do is bring a pair of needles (the bigger the better, around 9mm or 10mm are good) or you can pick up a reasonably priced set at the store.
So come on down! You can learn how to knit & make a difference!"

Every Wednesday night from 6 to 8pm.
Knit-o-matic, 1378 Bathurst St (3 blocks south of St. Clair).

This kind of initiative really excites me, and I would love to know (and promote) any other acts of craftivism going on in the city. So if you know of any or would like to start something up yourself, please email me the deets.