beads and bedrooms
Two events to check out this weekend:

1.
Oasis Beadshow
February 24-26 2006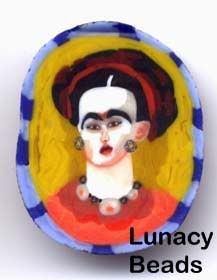 Metro Toronto Convention Centre North Building (lower level)
255 Front St. West
Admission: $5 or 3-day pass for $8

Hours:
Friday February 24 2006 - noon - 8:00pmSaturday February 25 2006 - 10:00am - 6:00pmSunday February 26 2006 - 11:00am - 5:00pm

According to
Nathalie-Roze
this is a good show for hobbyists and hardcore beaders alike - Lots of selection, workshops (costs run about $20), resources and inspiration. Some indie companies to watch for: Lunacy Beads (see photo) and BeadFX who distribute Art Clay Silver in Ontario.
2.
The Gladstone Hotel's 3rd Annual Alternative Design Event
February 24-26, 2006
Gladstone Hotel - 1214 Queen St. W.
Admission $6.00
Hours:
Friday February 24, 12-8 pm
Saturday February 25, 12-5 pm + Reception 7-10 pm (last tickets will be sold at 9 pm)
Sunday February 26, 12-5 pm
Come Up to My RoomLovedesign Party - FREE ADMISSION
Saturday February 26, 9 pm till...
with music by felix and gani - milkaudio (
http://www.milkaudio.com
)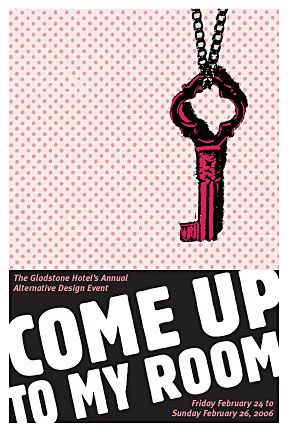 Come Up to My Room is an annual alternative design event housed in the historic 117-year-old Gladstone Hotel. Innovative, cutting-edge designers/artists are invited to transform all 12 of the Gladstone's second floor rooms into imaginative - and sometimes strictly aesthetic - site-specific installations. The exhibition showcases the work of practitioners and emerging designers who approach design with radical personal vision.
Come Up To My Room is designed to connect designers and artists from diverse disciplines to each other and to the outside community through its alternative take on the trade show.
Come Up to My Room showcases work that falls outside the "norms" of traditional design featuring designers and artists from diverse disciplines who dedicate their practice to; experimental, inter-disciplinary, self-taught, hand-made/craft-based, installation, and environmental, art & design projects. The installations incorporate furniture design, sculpture, lighting, ceramics, and more. Many of the installations are collaborative creations.
NEW IN 2006 - Come Up To My Room introduces Psssst! A series of design dialogues which will include speakers and presentations as well as interactive workshops in keeping with the exhibition's curatorial theme of conversation as a metaphor for social change in design. See the
website
for more info on these events and participating artists/makers.