EXHIBITION: Artist Loree Ovens
You may have seen Loree Ovens' work at the World Washi Summit via TCA post
If you weren't able to make it, she will be participating at the following group shows - definitely check out her works!! I know i will!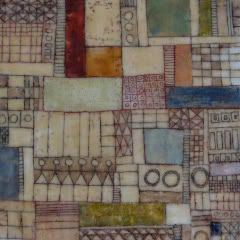 No Borders: Books and Boxes from Near And Far

(October 1 - 31)
Japanese Paper Place
Boxed Metropolis, a collaborative piece with Salina Kwan will be on display.


Nuit Blanche 2008

(October 4 - 19)

Proof of Secrets
PROOF Studio Gallery
55 Mill Street, Bldg 74, Studio 104
416 504 6761 (located in the Distillery District)



Textile Museum of Canada Shadow Box Auction
(October 15 - 30)
www.textilemuseum.ca/microsites/shadowbox2008
Whodunit? The OCAD Mystery Art Sale
(November 19 - 21)

www.ocad.ca/mini/whodunit


Loree Ovens, BFA is a Toronto artist who works in a variety of different media, including printmaking at Open Studio. This past summer Ovens exhibited in the World Washi Summit and AWOL's Square Foot. The image Village, 2008 was one of the encaustic paintings sold during the AWOL exhibition.