CRAFTY HAPPENING: Scotiabank Nuit Blanche 08 (Oct 4-5)
Via Akimbo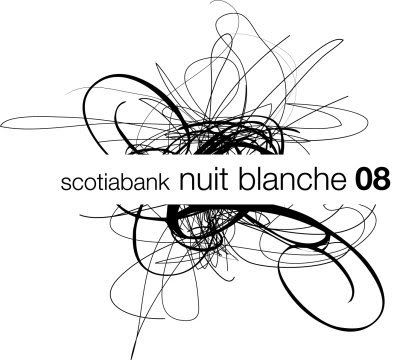 Weekend of Contemporary Art in Toronto
In just over two weeks, Toronto will be the perfect destination for art enthusiasts as international artists descend on the city for a weekend of contemporary art featuring two significant events – The Toronto International Art Fair and Scotiabank Nuit Blanche.


One is a massive four-day art fair for dealers, collectors, art professionals and enthusiasts from around the world to meet, mingle and enthuse about contemporary art. The other is a free all-night celebration of contemporary art in public spaces. Both offer a not-to-be-missed opportunity for art fans from around the world to experience Toronto through a unique artistic and cultural lens.


From sunset to sunrise on October 4-5, Scotiabank Nuit Blanche will take over the streets of Toronto as unusual or forbidden spaces open up for discovery and rediscovery.


Last year more than 800,000 people experienced art in unlikely spaces, as art projects transformed parks, alleyways and abandoned warehouses across Toronto. Cultural institutions from museums to galleries to artist-run centres opened their doors and offered free access to contemporary art city-wide.


This year will feature unique and innovative installations by over 750 artists, including performance, sound, interactive, film, photography, sculpture and art that defies definition.


Berliners 'Blinkenlights' will convert Toronto City Hall into the world's largest interactive computer screen. Hundreds of Zombies will take over College Park for a series of film shoots. Yoko Ono's three-part interactive exhibition in Liberty Village will require thousands to 'Imagine Peace.' Outrageous and interactive nouveau cabaret 'Don Coyote' will blur the lines between performer and observer at St. James Cathedral. Hilarity, cultural identity and absurdity will become the city-wide themes for this one magical night.


With more than 150 destinations sprawled across the city, it's nearly impossible to do it all in one night. To find out more and to properly plan ahead for your trip,
visit www.scotiabanknuitblanche.ca